About
BRUDERER.
BRUDERER is renowned the world over as a pacesetter in "high-quality punching technology". The company, which was founded in 1943 by Egon Bruderer, took just a few years to develop from humble beginnings into a global player. This huge success can be attributed to three quality features – all of which have since become hallmarks of the BRUDERER brand:
innovative and high-quality products
production on an extremely high level of quality
a customer-oriented sales and service organisation
The future as
a challenge.
BRUDERER employs some 500 people all over the world, 390 of whom work at the Frasnacht site in Switzerland, where all BRUDERER's high-performance stamping presses are produced. 95% of the company's products are manufactured for the export market. Sales and service organisations located all over the world combine with the company's own skills centres, for example in Asia to ensure direct contact with customers.BRUDERER is facing the challenges of the 21st century with the very same attributes that have made it great since its foundation:
Performance – Precision – Quality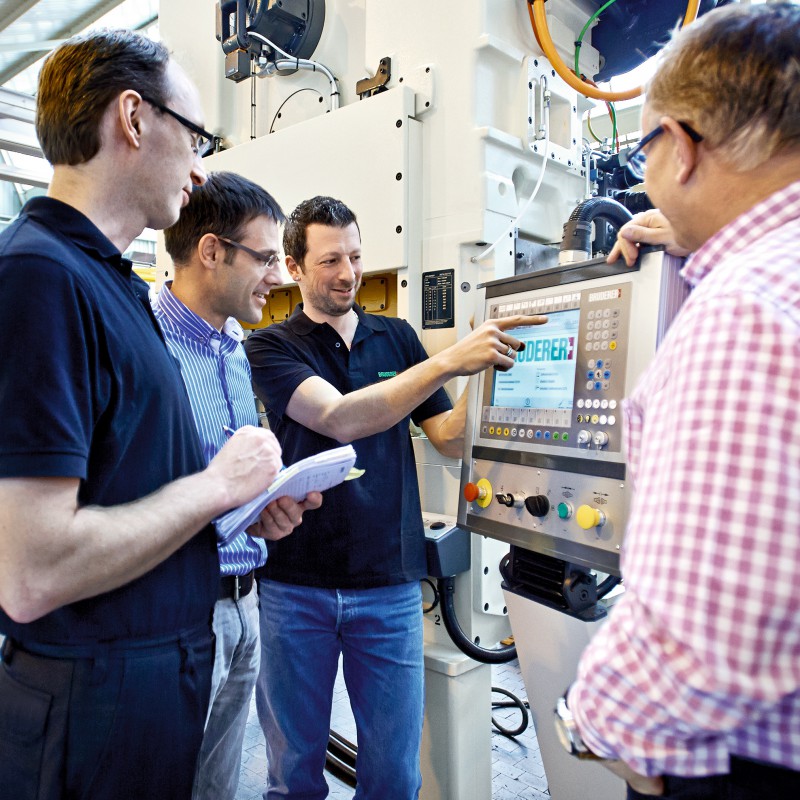 BRUDERER
history.
Formed in 1968 BRUDERER UK has established a reputation of unrivalled excellence in the sphere of high speed precision stamping. From their Luton location BRUDERER UK supplies its many customers with authentic "BRUDERER made" spare parts plus service support from a UK based team of factory trained service personnel.
Over the years we at BRUDERER UK have developed a policy of providing not only high speed presses but a comprehensive range of other products and service to its customers, including tooling, coil handling and feeding equipment to complete "turnkey" packages.
Today, our slogan is "ONE NAME, A MULTITUDE OF POSSIBILITIES"; choose BRUDERER UK as your one stop show for all press shop machinery and ancillary equipment.
BUK 50th anniversary & BAG 75th anniversary
– Launch of the BSTA 410
– BUK becomes competence centre
– Launch of the BPG planetary gear box
– Launch of the BSTA 280
Today BRUDERER is constantly working on the next generation
of stamping presses to remain as the global leader in stamping technology.
The Company opens its skills centre in China
Servo feed unit series BSV is launched.
The BSTA 2500 and BBV450 are added to the product range
These are followed by a sales and service company in India
BRUDERER sets up its own skills centres in Japan and Singapore
The range is expanded to include more powerful products: the BSTA 160
The combined punch-laser process is introduced
Egon Bruderer dies. His two sons Markus and Adrian take over the Company
The first products are manufactured under licence in Japan.
The first mechanical strip feed unit with oscillating movement is produced.
The Company relocates its Headquarters to Frasnacht on Lake Constance in Switzerland
Bruderer UK to provide sales and service support to the UK and Ireland.
A world first: Punching presses with perfect mass counterbalancing systems are produced.
The first presses are exported
The first series of high speed punching and metal forming presses hit the market
The First eccentric presses are built
Egon Bruderer founds the Company in Egnach Switzerland