A symphony of speed and precision: the new BSTA 280F
Mathilde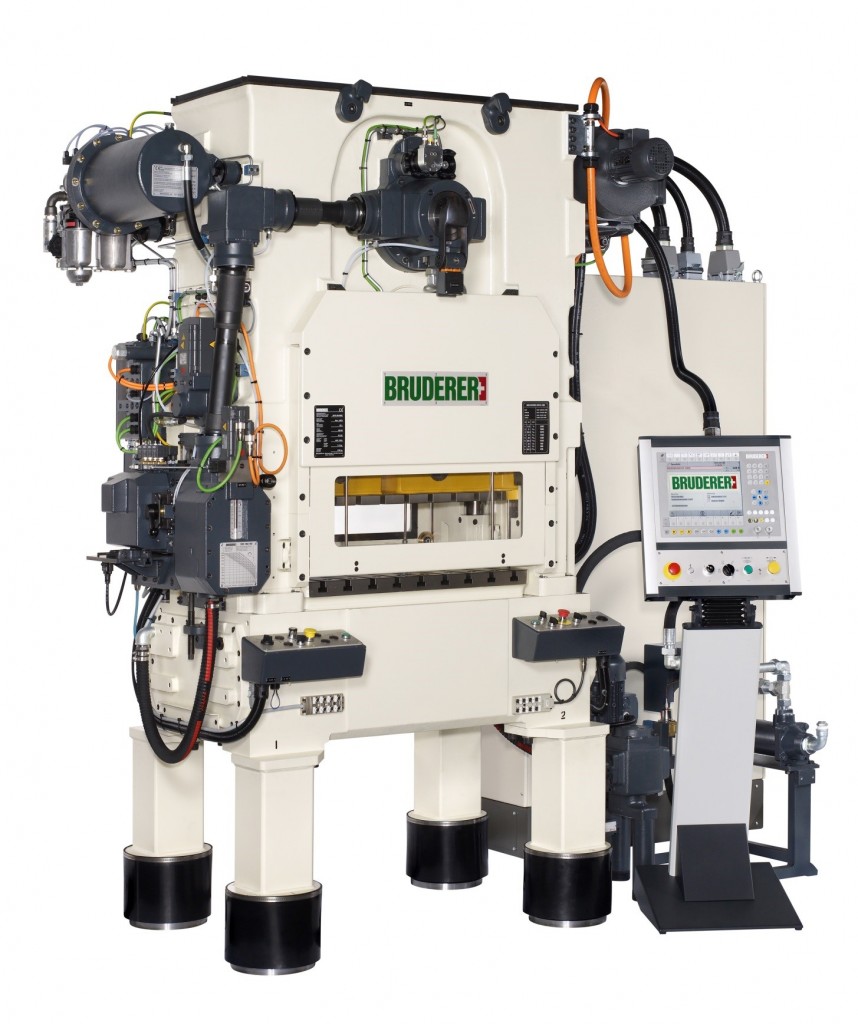 At Blechexpo 2017 in Stuttgart, BRUDERER is showcasing the latest model of their BSTA series: the high-performance fixed-stroke BSTA 280F-88 B2 stamping press. It excels with micrometre precision and a higher productivity than a comparable press with adjustable stroke. This makes the BSTA 280F ideal for the mass production of microparts for the electrical, electronics and automotive industries.
 On the BRUDERER stand 7208 in hall 7, the new BRUDERER BSTA 280F-88 B2 is shown as a complete stamping line under production conditions. It is equipped with BRUDERER's own BSV 170 servo feed unit and peripheral equipment by long-standing BRUDERER partners.
Fixed stroke, higher speed
"Many people don't realise that with a BRUDERER fixed-stroke stamping press, depending on the stroke length, you can get up to 47 % more productivity than from a comparable press with an adjustable stroke," says Josef Hafner, head of R&D at BRUDERER. Whilst a fixed-stroke machine can be operated at higher speeds than a press with an adjustable stroke at the same given length, one has to accept, however, that only one stroke length is available at a time. The following combinations of stroke length and speed are possible:
Fixed stroke 12.7 mm (1/2"), speed 2000 spm
Fixed stroke 15.9 mm (5/8"), speed 1800 spm
Fixed stroke 19 mm (3/4"), speed 1700 spm
Fixed stroke 25.4 mm (1"), speed 1500 spm
Fixed stroke 31.8 mm (11/4"), speed 1500 spm
High-end stamping tools
The BSTA 280F is capable of running at high speeds. However, the high ram acceleration means that high-end press tools need to be used, such as the one developed specifically for connectors by Leicht+Müller. What is innovative about this is the in-die camera by Otto Vision for monitoring the quality of the parts. Only good parts are passed through. The visualisation is shown on two screens, one for the BRUDERER data and one for the in-die camera. On the exhibition stand, 1000 connectors per minute are produced, at a stroke length of 19 mm. The material used is a copper alloy strip of 0.3 mm thickness and 18.5 mm width, the feed length is 5.0 mm.
Available to customer specification
The BSTA 280F high-performance stamping press with a press force of 280 kN and a speed range of 100 – 2000 spm is available with a tool loading area of 750 mm or 880 mm and fixed stroke length and shut height according to customer specification. For the strip feed, there is a choice between various roller, servo or gripper feed units. The main characteristics of the fixed-stroke stamping press are high stamping precision, high speeds coupled with large ram strokes and the possibility to adjust the ram position during stamping or regulate it according to various criteria.