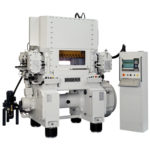 Bruderer High Performance Stamping Press BSTA 60
High Speed BSTA 60 High performance stamping press with perfected mass balancing system and adjustable stroke.
Send Enquiry
Description
Press force 600 kN. Speeds ranging from 70 to 700 spm. Compact design the low overall height of the stamping press supports operation in rooms or sound protection cabins with low ceilings. The BSTA 60 is suitable for special solutions like transfer applications. Press control on PC-basis, touch screen with clearly arranged graphics for easy handling, memory function for die parameters and integration of measuring and control function for increased process safety. Precision mechanics, versatile can be used for a number of different applications, optimum cost-benefit ratio.