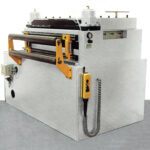 Magnum Striaghtener
THE P/A MAGNUM STRAIGHTENER REMOVES COILSET FROM THICKER, WIDER MATERIAL. IT WAS DESIGNED TO WORK WITH THE MAGNUM SERVO ROLL FEED.
The Magnum Heavy Duty Straighteners are designed to compliment the P/A Magnum Servo Roll Feeds. Solid cast frame construction insures precise roll parallelism. There are seven oversized straightening rolls to remove coil set from thicker, wider material.
Entrance and exit pinch rolls are standard with all the lower straightening and pinch rolls being driven. Pneumatic opening of the entrance pinch rolls is also included. Entrance and exit support rolls are standard with fully adjustable exit cascade rolls available as an option. Vertical entrance guide rolls are provided with tee slots for ease of adjustment. An Ultrasonic Loop Control is included to regulate material loop and speed.
Send Enquiry