£5m sales prove a perfect 50th birthday present for Bruderer UK
Mark Crawford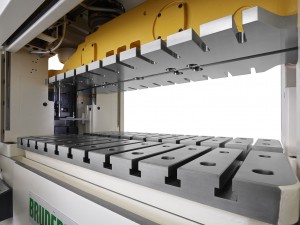 One of the UK's leading suppliers of high quality punching technology is celebrating its 50th birthday in style by aiming for a record-breaking year.
Bruderer UK, which was formed in Luton in 1968, has just smashed the £5m turnover barrier for the first time in its history and is now setting its sights on adding a further £1m of orders for new presses, ancillary equipment and service packages over the next 12 months.
The company is set to take its biggest ever presence at MACH 2018 to mark the anniversary, where it will be providing live demonstrations of its BSTA 510-125B2 press, fitted with BPG22 planetary gearbox and state-of-the-art BSV300 servo feeder.
It will also be showcasing a range of servo feeders, decoilers, rewinders, welders, conveyors and lubrication equipment, all essential for providing seamless production and high volume manufacturing.
"2018 is a massive year for Bruderer, with our UK operation 50-years old and our parent company in Switzerland actually celebrating its 75th," explained Adrian Haller, Managing Director of Bruderer UK.
"These two big milestones require a big platform and where better than MACH 2018. This industry-leading event will provide us with the perfect opportunity to celebrate with customers, suppliers and business partners that have played a part in our journey."
He continued: "And what a journey it has been. We have come through some of the worst recessions in living memory and over the last five years have enjoyed 10% year-on-year growth, culminating in us passing the £5m sales mark in January."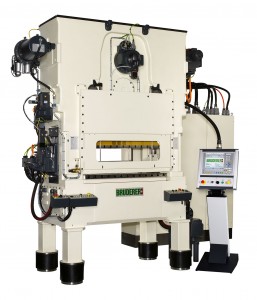 "This is just the start. All attention has turned towards a 20% increase in sales this year and the Bruderer BSTA 510-125B2 press – with its quicker stroke change, ability to achieve longer press tool life and dynamically adjustable ram height during production at micron increments – will be a big driver in achieving this target."
2017 was a great year for Burderer UK, with orders coming from clients involved in automotive, construction, electronics, medical and new energy.
High speed precision presses in demand have ranged from the BSTA 180kn through to the BSTA 2500kn, together with the Bruderer Planetary Gearbox. This gives the customer the ability to control the development of the stamping process for forming and achieve production rates from less than 1 stroke per min through to 2500 strokes per minute.
Clients are getting two machines in one, capable of developing and proving a component as well as delivering high volume production.
The most high-profile job from the last twelve months originated from South Wales, with Bruderer installing the BSTA 1600-117B2 at the Royal Mint.
This machine is capable of up to 825 strokes per minutes and gives the world famous institution the opportunity to produce 10,500 £1 coins every 60 seconds.
Adrian concluded: "To celebrate our 50th birthday, we'll also be making a special announcement that will hopefully leave a legacy for the next 50 years.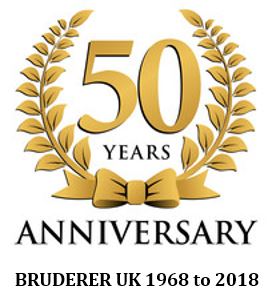 "A high profile delegation from Switzerland will be visiting on Thursday 12th April, including current CEO Andreas Fischer, Reto Bruderer (the son of owner Adrian Bruderer) and Head of R&D Josef Hafner."
Bruderer UK, which employs 14 people at its headquarters in Luton and at a satellite facility in the Black Country, has recently taken on a young service engineer to help it cope with expansion with plans also in place for further recruitment of experienced staff and apprentices to futureproof the business.