New 160ton High Speed Press for Leading UK Manufacturer
Mathilde
Bruderer press: BSTA 1600
More good NEWS for UK manufacturing Bruderer UK has secured the sale of a 160 ton High speed precision press, for one the UK's oldest and most prestigious manufacturers.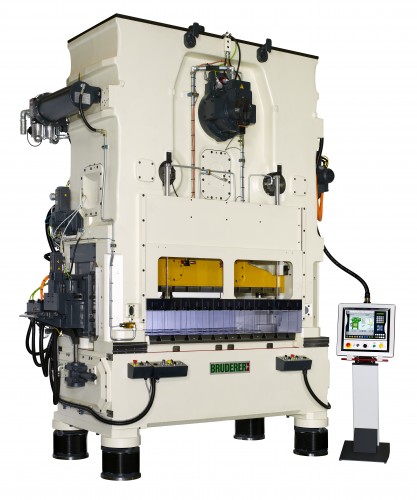 Specifications:
Tool loading area 1170 mm

Speed range 100-825 spm

Fully automatic ram height adjustment

Dynamic ram correction during continuous operation insuring perfect parts from 100 spm to 825 spm

Ram quick-lift facility with automatic positioning for tool shut height and press open positions

Fitted with Twin Feeders BBV 450/150 capable of material up to 500mm wide and 12mm thick at 150 mm pitch running at 650 spm

Motorised feed length adjustment with dynamic correction facility during continuous operation insuring precise pitch regardless of SPM

Full Bruderer B2 Human Interface Control system.

BRUDERER ACTIVE press force monitoring and Tooling protection
Our experience – for your benefit.
Every BSTA stamping press contains decades of experience that we have built up, in responding to the demands of ambitious customers. Important innovations and solutions which pay attention to the little details are designed to help you produce more efficiently using our machines. Try them out for yourself.
Power put to work in the right place.
Thanks to the unique lever system of the BSTA stamping press, the load acting on the ram is distributed across the system. This load distribution, together with the absolute minimum clearance and the efficient lubrication system, is a crucial factor in the high durability and consistent precision of the machine
More information about the BSTA-1600