Royal opening of new facility for Harwin Plc
Mark Crawford
Last week saw the opening of the new production facility at Harwin Plc in Portsmouth.
Our Group CEO Andreas Fischer and Bruderer UK Managing Director, were invited along for the grand opening.
Adrian Haller said 'the new facility looks fantastic and is a credit to all those involved in this project'.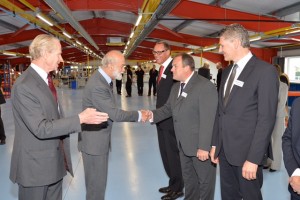 He went on to say 'this will help Harwin continue to grow and build for a even more successful future'
Bruderer UK have supported Harwin for over 30 years now, supplying high speed stamping presses and a wide range of ancillary equipment and tooling components.
Adrian concluded 'We are very proud to have been invited to this prestigious event and look forward to continuing our long standing relationship with Harwin'
For more information on Harwin and the range of products they manufacture, visit their website www.harwin.com