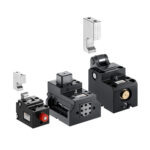 Precison Punching Units
THE PUNCHING UNITS, WHICH ARE MECHANICAL, ARE COMPLETING OUR
CAM UNIT AND ROLLER SLIDE UNIT PRODUCT RANGE.
In manufacturing press shops you are often faced with the challenge to perform a stamping or bending operation in a direction that is not the same as the working direction of the press. Usually in such situations cam units are used, which convert the vertical downwards movement of the press into a horizontal direction.
Changing the punching / bending direction during the press stroke makes it possible to create very tight positional tolerances, where an additional operation after the press process would not be economically possible.
The punching units, which are mechanical, are completing our cam unit and roller slide unit product range. Specially developed for progressive press tools, they can be used in every situation where conventional cam units show their limits.
Send Enquiry