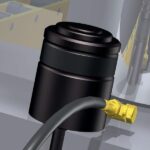 Tool Clamping Systems
Hydraulic clamps can be used to reduce down time when setting up wherever dies need to be changed frequently. With a defined clamping pressure, die clamping is extremely precise as all clamping elements are effective simultaneously. Integral features of such a die clamping system include complete die protection in conjunction with effortless operation. The minimum handling requirements saves considerable time.
Send Enquiry
Description
Tool Clamping Systems
Suitable for positioning in T-slots
If different sizes of dies are predominantly used, hydraulic quick-action clamps mounted in the T-slot is the ideal solution for press tables and rams. Adaptive ROLLBLOC hydraulic quick-action clamps offer not only practical convenience for frequent die change procedures but also tangible economic benefits with regard to setup times and die protection.
Also suitable for combinations
The different types of ROLLBLOC hydraulic quick-action clamps can be used in combined arrangements. (Example: ROLLBLOC ledge clamps on the press table, ROLLBLOC Wedge Clamps on the ram). The defined clamping force is activated simultaneously in each clamping circuit configuration, thus avoiding stress points on the dies. Check valve and/ or a multi-circuit supply system reliably prevent the occurrence of pressure drops in the die clamping systems.
Additional information