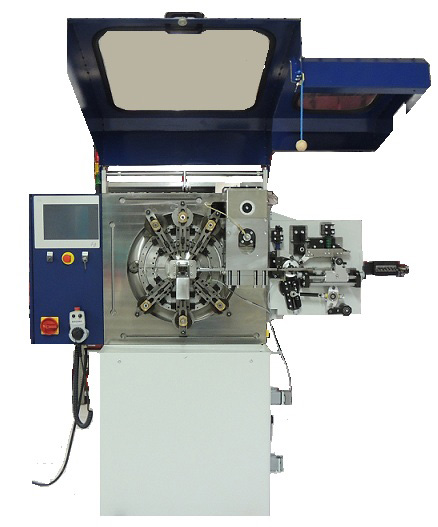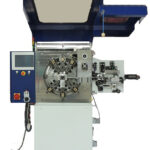 ZUB 100 / 200 (FMS-Q80 RS)
Stamping and bending machine equipped with an AC-servo drive and an intelligent and user-friendly control. Production speed of 25 – 400 pieces/min depending on the tool and component part
With regard to the size of construction this machine is similar to the Finzer machine ZUB 100 / ZUB 200.
This new machine is equipped with our new control concept by means of which customer-specific automation requirements such as camera tracking, mounting and assembling can be monitored and managed.
Due to the installed technology a lot of mechanical components such as the service intensive compressed air-brake-combination, the mechanical hand wheel and the big control cabinet have been replaced.
• Precision grip feeder permits a repeat precision
of 0.01 mm.
The max. feeding length is 100 mm (special
versions up to a length of 200 mm)
• Stamping unit of 80 kN with a stroke of
5/10/12 mm
• Quick-change-plate equipped with up to 11
positively controlled
bending slides requiring low maintenance,
(bending force of 12/22 kN with a stroke of
44 mm) with a work and a return cam
Processing of strip material of a width of up to
50 mm and a thickness of 1.5 mm as well as wires of a Ø
of up to 4 mm
• Frequency-controlled servo-drive of a power of 4 kW
Concerning the hardware special attention was paid to the following points:
• The supply availability of 20 years can be guaranteed by the in-house developed
and produced electronic control unit
• High operational safety, even at high temperatures and vibrations
• Little space required due to the compact design
• Reduced wiring outlay due to the in-house developed control unit
• Possibilities of automatic and visual diagnosing
• Integrated cam control for controlling internal and external signals
Send Enquiry