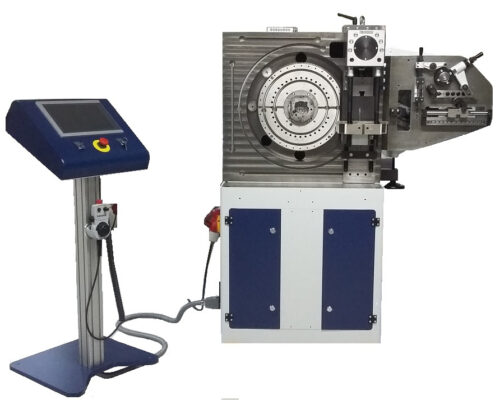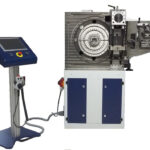 ZUB Base Machines
After repeated requests we've developed a new basic machine to modernize 18 old year old + Finzer ZUB-stamping and bending machines (multi slide) ZUB100 / ZUB200 for the present.
This basic machine consists of
> a base,
> a bending casind with central plate
(optionally with/without system of quick change plate),
> the new Biegema-control unit on the basis of B&R with touch screen,
> AC-servo-drive system,
> a safety cover.
The modular component assemblies of your existing ZUB-machine such as feeder, stamping unit, wire/strap straightener, rear cam shaft, basic tool aren't part of the quotation basic machine ZUB, but they can be integrated into the basic machine without any problems.
What does this mean for you?
– Your proven machine will be modernized and updated to state-of-the-art and will be equipped with all the advantages of control technology of a new Biegema-machine.
– Future maintenance will be reduced by eliminating high-maintenance and expensive mechanical components such as brake-coupling combination, regulating wheel, worm gear, handwheel shafts, etc.
– By using your existing component assemblies the acquisition costs will be considerably reduced
(by a factor of approx. 2 to 2.5) in comparison to purchasing a complete new machine.
– Saving energy of up to 40% due to energy-efficiently mechanical and electrial drive selection.
– Essentially less running noise.
– Operating and plain text display are done via touch screen.
– Comfortable operating by means of electronic handwheel in the jog and manual mode.
– You can continue to use your existing stamping and bending tools for Finzer-machines.
After modifying the machine, it will be conforming with the present and current CE-guide lines.
The basic machine is available for the following Finzer-/and Bebeco-types of machines:
– ZUB-100
– ZUB-200
– ZUB-220
– ZUB-250
– FMS-Q 80R
– FMS-Q 250R
If you have further types of Finzer-/Bebeco-machines (e.g. ZUB-360) and you'd like to get a basic machine for this type of machine, please, contact us.
Send Enquiry